évolis® Promote was designed for those wishing to grow their hair longer, faster. The unique évolis® technology increases the rate of growth by 20% and maximises hair length. The exclusive proprietary blend, enhanced with Baobab, fortifies to protect and prevent future damage while conditioning and hydrating hair.
THE SCIENCE BEHIND évolis®
The évolis® products were developed by scientists focused on hair biology, specifically how the FGF5 protein impacts the hair. Too much FGF5 can negatively impact hair, causing premature hair loss and turning healthy hair into thin, lifeless, slow growing strands. By blocking FGF5 we can reverse the negative effects, restore hair density, promote new growth and preserve existing hair strands. évolis® formulations are based on these learnings and are designed to deliver.
REAL PEOPLE, REAL RESULTS
*20% faster hair growth was observed in users at 4 months. Double blinded placebo controlled study, Department of Dermatological Science, The University of Tokushima Japan (2007, Maeda et al). + in clinical studies, évolis® has been shown to reduce hair fall and increase the number of actively growing follicles (2017, Burg et al).
3 STEPS TO LONGER, STRONGER, SHINIER HAIR
A complete system for those wanting to grow their hair longer, and for those with dry and damaged hair
PROMOTE 3 STEP SYSTEM
$90.75 – $121
HOW TO USE OUR 3 STEP SYSTEM
HOW TO USE OUR 3 STEP SYSTEM
évolis® PROMOTE Activator
Accelerates hair growth for stronger, longer, healthier hair.
$48.75 – $65
évolis® PROMOTE Shampoo
Gently cleanses scalp and hair while protecting each strand from breakage.
$21 – $28
évolis® PROMOTE Conditioner
Deeply nourishes strands, increasing hydration, strength, shine and elasticity.
$21 – $28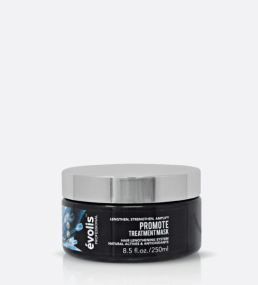 évolis® PROMOTE Mask
Intensely conditions, restoring quality, strength and volume.
$30 – $40